Dressing tips for Parkas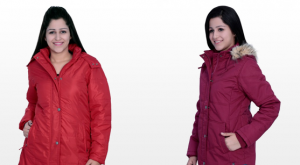 Come winters and you start preparing yourself to fight with the season atrocities. Post September, we see there is change in the weather in many parts of the world. It is not easy to protect yourself in winters and specifically when they are wet. Remember, when you were young and how your elders would stop you from getting outside in cold without getting dressed up properly. It was always a challenge earlier because there were not many options for dressing up winters. But today, with fashion industry getting innovative and creative by every passing year, there are many winter garments now available in the market that matches the taste of the customer. One such garment is Parkas.
Earlier there were garments like sweatshirts which were good supporters in winters but you were not able to do much when it comes to styling up this garment. But now with the inception of stylish parkas for women in the market, women do not have to worry much about styling in winters.
Parkas are a comfortable outwear in winters, they are waterproof and durable and are a perfect winter wear to beat the winter winds. Parkas might not look very stylish like your other winter coats or jackets but still they can make you look great in winters. Let us see various ways in which you can style your parka with other winter clothes.
While shopping for a parka, look for the one that have a classy look. Since this garment is not very stylish, so you do not have to worrying about being overdressed. A more personalised version of parka with your casual outfit will make you look stylish
Women are crazy for dresses that have a bling. But since, this garment is more of a waterproof material, so matching it up with something like this could be a big task. However, to make it easy, now you can find stylish parkas for women in these materials as well. Try not to buy Parkas that are too shinier. Matte finish one does can give you stylish look.
While buying a parka, ensure that you buy a size that is a bit looser. This will allow room for other layers worn inside it and will not make you look puffy. Also it will help you breathe and does not restrict your movement.
There are different styles of parkas available in the market. You can choose one that matches your taste. There are parkas with belt and without belts, with hoods, front buttons or zippers.
Accessorise it beautifully with other things like caps or scarfs. Pair it with leggings or tights and also wear boots. It looks very stylish.
Another good ways could be, during cold and wet season, you could feel gloomy and dull. But with bright colours underneath the parka could make you feel excited. Team it up with accessorises like nice earrings, or scarf or gloves. Boots looks great with parka as well.
For a normal cold and windy weather, wearing a long length sweater with your parka with jeans can make you look simple and trendy.
So, it does not matter if it's cold and wet. You can still look stylish and trendy by adding some tricks to your dressing.