About Women and Jackets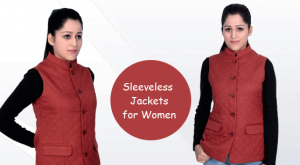 Every dress, even winter jackets have everything to do with a woman's body shape. There are many full  sleeveless winter jackets for women available in market but not every jacket is meant for every women. So before you pick a jacket for you ladies, keep these things in your mind.
For Apple Shaped Women: Apple shaped women carries weight at their waistline. Women with this shape should avoid jackets or coats that are puffed since they add to the bulk. Their jacket should snug around their bust and should have a V-neck. For the slimming effect, the jacket or coat should fall past waistline to the mid-thighs or knees.
For Pear Shaped Women: Pear shaped women carry weight around their hips and thighs. A trapeze shaped coat or an A-line coat widens at the bottom hence balancing the width of the hips and should be of the length that comes to the mid thighs. Large collars or furred collars will draw the attention upwards. Wide sleeves, broad lapels and strong shoulder design will also help in distracting the views from hips hence making you look slim.
For Strawberry Shaped Women: Strawberry shaped women have heavy bust, wide chest and broad shoulders. Trapeze shaped coats and jackets that hug the upper body and flares at the bottom will provide a balance to the body of this type. Prefer single row of buttons in the jacket. Since necklines and shoulders are good enough to draw the attention hence lapels and collars should be narrow to create a proper balance.
For Hourglass Shaped Women: Hourglass shaped women have a slender waist while they have heavy bust and wide hips. Women with this shape should avoid jackets and coats that have drop waist and baggy and wide styles. Instead they should wear cropped and fitted jackets with a belt that will accentuate their slender waist.
For Rectangle Shaped Women: Rectangle shaped women have flat chest, slim waist and narrow hips. Women with this type of shape are usually athletic. They should pick a coat or jacket that can enhance their feminine figure with double breasted style, flared bottom and tailored waist.
These are just the five basic figures and not all women fall in these categories. But by understanding these five basic figures, a woman will be able to understand her body shape and find a coat or jacket style that suit her well and make her body look proportional.