Parka jacket for extreme weather
One of the types of a coat is a parka. It has a hood, usually with fur or faux fur lining. The purpose of the hood is to protect the face extremely low temperatures and icy winds. The original parka was made of seal skin. It was mostly used on hunting trips and while kayaking in the biting cold of the Arctic. The initial parkas used to be coated with fish oil to make them water-proof. The present parka tends to be a knee-length cold-weather coat. It is stuffed with warm synthetic fiber, and has a hood lined with fur.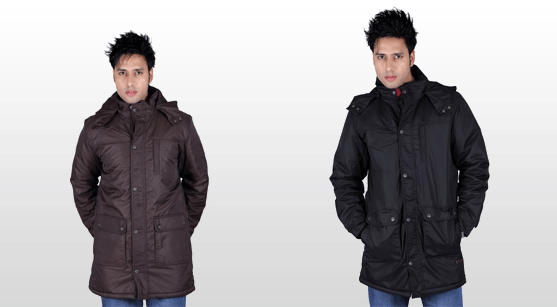 It brings real warmth
Men living in regions where the temperature drops much below the freezing point, where it is windy most of the time and where the temperature stays below zero for months will need a modern parka to help them move outdoors comfortably and go about their routine work in spite of the extreme weather, thanks to the parka. Some parkas offer protection in extreme weather for adventurers. These have a robust water-proof shell. It is filled with blended wool to bring real warmth. The hood has a ring of coyote fur.  They form the warmest insulating layer. They weigh a lot and will keep the wearer warm.
Materials and colors
Parkas are now made of Cashmere and blends, denim, leather and faux leather, fleece, wool, polyester, and wool blends. They are available in many colors like beige, black, blue, green, grey, navy blue, orange, red, white and yellow. There are many different designs. The price varies from Rs1000 to Rs10000.
Style statement
 The parka jackets easily end up making a style statement. Quite expensive and quite complex so as to ward off extreme rain and wind and cold, parkas are designed beautifully. They are among the direct impact garments. Their designs are functional but also fashionable. The parkas are also durable. Most people will think twice before buying a pair of new parkas.
Discount offers
Parka jackets for men are available online in a great variety. The brand producers and the online shops do offer many incentives like discounts on the parkas. The people going in for parkas will be able to compare the prices offered by different brands and the discounts offered by them. So they will have to properly study the entire price and discount structure and arrive at the competitive actual price of each offer so as to finalize their choice. May they get the best value for their money.