Gangtok Blends Tradition with Modernity
Gangtok hill station is located in the Himalayan ranges, at an elevation of 1,650 meters. The capital of Sikkim is situated on a long ridge by the side of the Ranipul River. It has spectacular scenery. There are many points with excellent views of the captivating, snow-capped Kanchenjunga range in the distance. Kanchenjunga (8,598 m), the world's third-highest peak, is clearly visible on the west of Gangtok.
Adventure activity
Gangtok is a nice blend of age-old tradition and modern urbanization. The delightful mountain ranges have several beautiful monasteries and make Gangtok a popular Buddhist pilgrimage site. Gangtok, which means a hilltop, promotes adventure activities like white-water rafting, trekking, hang gliding, and mountain biking and yak safari. It offers treks to many interesting places.
Forests and flowers
Gangtok is situated within dense forests with deciduous trees like poplar, birch, oak, and elm, and evergreen, coniferous trees. Orchids are common and bamboos abundant. Sunflower, marigold, poinsettia, and other flowers bloom around November. The rich forests and the colourful flowering plants add to the already divine beauty of Gangtok. Flowers like rhododendrons, primulas, blue and yellow poppies, and irises bloom between May and August.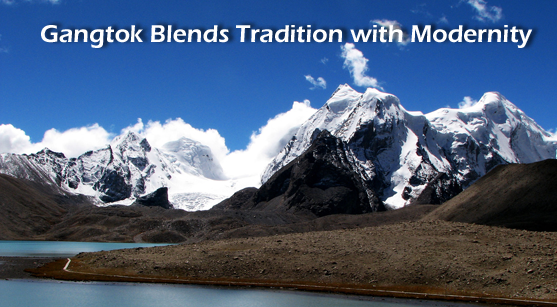 A serene lake
The places of interest include the Tsongo or Changu Lake, 40 km from Gangtok. Tourists have to obtain permission to visit the beautiful lake. Considered sacred by the people, the serene lake is home to brahminy ducks and located 3,657 metres. It remains frozen during the winter months.
Interesting places
Two hundred-year old Enchey Monastery has idols of gods and religious texts. It conducts Chaam, an annual religious masked dance in January, for tourists. The deer park, established in the 1950s, has different species of deer and other animals like red panda and Himalayan bear. Among other interesting places are the Government Institute of Cottage Industry, which promote the traditional art and craft of Sikkim, and the Sikkim Research Institute of Tibetology, which is a world -famous centre for Tibetan studies and research.
The way to Gangtok
The nearest airport from Gangtok is Bagdogra, 16 km from Siliguri. There is once-a-day helicopter service from Gangtok to Bagdogra, carrying four passengers. The Pakyong airport, being constructed 30 km from Gangtok, will be operational by March 2016. The nearest railway station is Siliguri. Work has begun on a broad gauge railway link from Sevoke in West Bengal to Rangpo in Sikkim. Gangtok is well connected by road with Darjeeling, Kalimpong, and Siliguri. It is linked with other parts of the country by an all-weather road. The steep gradient at many stretches and the spiral nature of the road slow down the traffic greatly.
Winters are quite cold
Gangtok has a mild climate in summer. The summer maximum temperature rarely crosses 25 °C. The monsoon witnesses heavy rain and landslides. The annual rainfall is 362.6 cm. The winter temperature averages between 4 °C and 7 °C. Snowfall and temperatures below the freezing are rare. Gangtok is often foggy. So men visiting Gangtok in the summer can be comfortable with jackets and can look for men's regular length Jackets online before the trip. However, the entire family will need heavy woollens clothes during a winter stay.